Martin Bethenod
Director of cultural institutions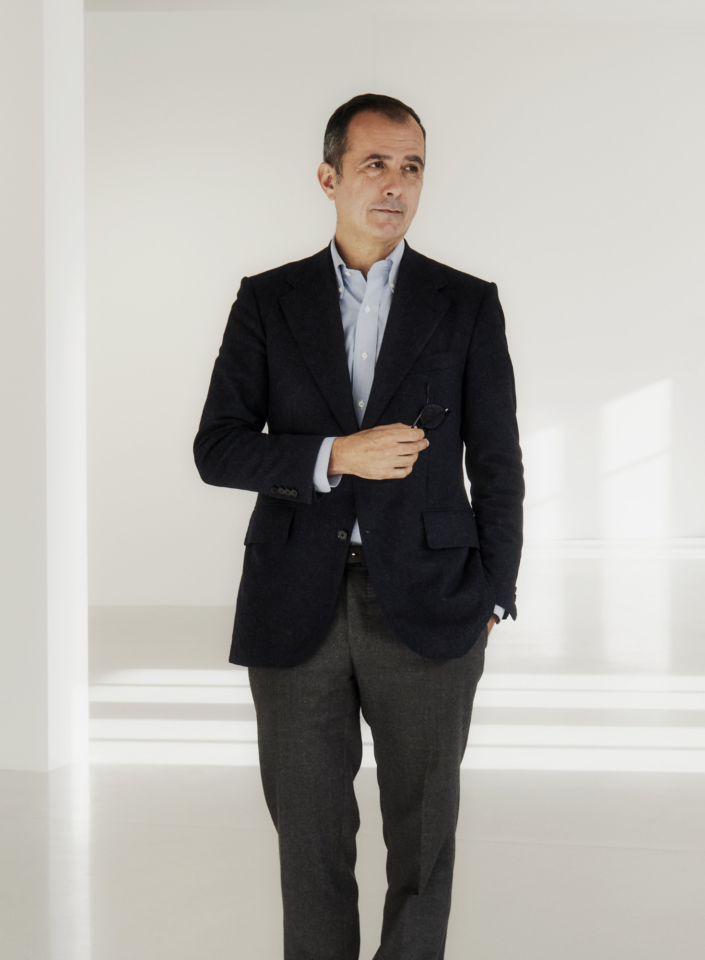 Martin Bethenod was notably Delegate for the Plastic Arts at the Ministry of Culture, General Commissioner of the FIAC, Director of Palazzo Grassi - Punta della Dogana in Venice and of the Bourse de Commerce in Paris.
Here are four favorites, around the same taste of playful cerebrality, sensitive, without dryness, delectable. A walk through four projects that are -except for the last one- still invisible as I write these lines. To try to share the desire that they inspire me, I had recourse to the memory of the previous works of these four artists – followed with passion over the years -, to the exchanges with their gallery owners, committed and visionary smugglers, and to the imagination.
Trisha Donnelly – Air de Paris
What will we see on the second floor of Air de Paris, inhabited (haunted) by Trisha Donnelly? No image, no clue, no announcement, no list: to experience the work, physical presence is required. Sculptures, photographs, drawings or projections? I imagine that it will be, in any case, a question of mystery, of appearance, of accident, of vibration, of light, of trembling. I am sure that the proposal will be deep, delicate, ineffable. That it will once again "steal our aesthetic hearts", to use the critic Jerry Saltz's unsurpassed formula. And I know that it will remain anchored in my memory.
Aurélien Froment – Marcelle Alix 
I first encountered Aurélien Froment's work in the mid-2000s, around his Théâtre de poche, where a magician, half fortune teller, half art historian and disciple of Aby Warburg, manipulated images with grace. Since then, I have been fascinated by his ability to bring forth a kind of mysterious beauty from the intelligence of forms. To manifest the right of images "to speak, as much as their right to remain silent", as the artist says. After the theaters of memory, the games of Fröbel, the ghosts of the ideal Palace of the Factor Cheval… he continues with Marcelle Alix his reflection on the transmission of the forms through the music, the breath, the voice, the learning of languages. Through this time, it seems, a journey in the hollow of the ear and a journey in the Tapestry of the Apocalypse, revealed in the light of a torch.
Mark Geffriaud – gb agency
In 2018, Mark Geffriaud inscribed on the walls of gb agency a continuous line, at eye level, meandering on the walls, doors, windows, glass, uprights… What seemed like a simple line was a 57 linear meter text, the reading of which invited the viewer to a performative exercise of systematically surveying the gallery space, as much as to a poetic experience between reminiscence and fiction. Whether they involve literature, projection, photography, printing or assembly, Mark Geffriaud's devices are always marked by their extreme precision and their almost fairy-tale-like capacity for evocation. Today, he proposes a new architectural and mental rereading of the gallery, by installing, in particular, behind the large frontal exhibition wall, a secret space – blank page or dark room – whose door opens at nightfall.
Sherrie Levine – David Zwirner
Sherrie Levine's long-awaited return to Paris (can we imagine that her last exhibition was at Ghislaine Hussenot in 1991?) is announced by a strange, ironic and vaguely disturbing press release, in which it talks about twins – as in a Mark Twain short story. Starting with two near-twin pairs of dwarf sculptures (one in black glass and polished bronze, the other in crystal and polished bronze), whose titles evoke Gilles Deleuze and Clement Greenberg respectively, the exhibition at Zwirner's articulates a series of variations on the questions of repetition, simulation, and appropriation that the artist has been exploring in an unparalleled way for more than four decades. One would dream that this radical and subtle display would give programming ideas to a major institution.